20th Annual Payroll Tax Seminar
This year is the 20th edition of the must-attend annual Payroll Tax Seminar hosted by Rob Cooper. This seminar details the final changes of the employment laws that will affect your payroll from March 2018.
Topics covered in the seminar include:
Budget 2018 announcements
Tax changes
Tax certificate changes
UIF Amendments
Compensation fund
Future Employment Tax trends
and more >
Share this event with a friend by clicking here >
Duration: 09h00 - 12h30
Date: Various options available on the booking form
Pricing: R 2 295 (Excl. VAT)
R 1 950 (Excl. VAT) Seminar loyalty price
Speaker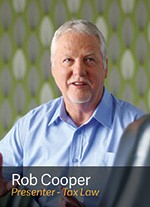 Rob Cooper


Over the past 20 years Rob has been focused on the diverse legislation that governs employment and the Payroll industry, is the chairman of the Payroll Authors group of South Africa and is widely respected as the expert in his field.
Thank you for submitting your details, one of our consultants will contact you shortly to finalise and complete your booking.